General Details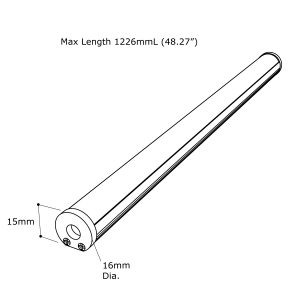 "A dual function light fixture" that provides both white light and high doses of energy geared for inactivation of various prevalent bacteria. This is made possible by "Nichia's 405nm LED" whose wavelength is between UV and visible light. The effects of sterilization and suppression of bacterial growth can be obtained without any negative impact on human body. Its bacterial effect is not immediate, unlike UV lighting, however it can be safely used in normal light settings as it gradually inhibits the growth of bacteria over time.
Model: 16D-LT-AntiB-24V-6W-xxxxK-L (x=Color) (L=Lens Cover)
Size: 16mm (Dia) (0.63") x 15mm(H) (0.59") x Max length 1226mm(L) (48.27")
LED Strip: 37.5mm (1.48") Increments
LED Quantity: 3 per 37.5mm (1.48")
Power Consumption: 6W per 300mmL (11.81")
Output Lumen:
Opaque lens: 315lm per 300mmL
Clear lens: 390lm per 300mmL
Input Voltage: 24VDC
LED Types: Nichia "dual function LED for general illumination and disinfection"

Wavelength: 405nm peak

CRI: 80
Lamp Life: 50,000 Average life hours
Available Color (K): 3500, 4000, 5000
Lens: Diffuser, Clear
Dimmable: Yes (0-10V)
Cooling: Heat sink
Suggested Room Temperature: 0°~40°C
Suggested Room Humidity: 20~80%
Mounting Method: Magnet
Common Applications: Hospitality, Residential Kitchen, Commercial
The Fixture Test Results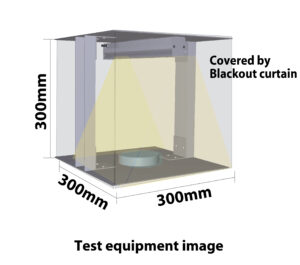 Our antibacterial tube light has been tested at the Japan Food Research Laboratories (JFRL) on human coronavirus that causes the common cold as well as on various bacteria such as Escherichia coli and Staphylococcus aureus – common causes of food poisoning.
In test results, 57% of bacteria disappeared after just one hour and 55% of human coronavirus disappeared within 5 hours. In 24 hours most bacteria were gone according to LED test results obtained by Nichia.